This is
seedofdarkness using
taconitako to sell her wigs because she needs to fund a convention trip and she's not using these wigs anyways.

All prices are in USD and includes shipping to Canada and the US (takes about a week or two). For international shipping add $5 (Standard airmail, takes about 2-4 weeks).
I prefer Paypal, but I do accept international money orders/Moneygram/Western union (though you must cover all fees).

For feedback on me check out here (ebay: seedofdarkness).


BLUE Super Long Never Worn Before 3.5 ft Wig - $50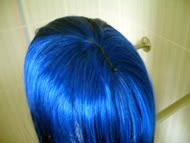 Extra Long Bangs. Originally bought on Ebay for a costume that fell through. Would be perfect for a Konata from Lucky Star costume. Yes, I put the wig clamp onto my shower curtain pole (Sorry my mirror's so dirty XD) and that is me taking the picture in the picture. For reference, I'm 5' 5" and the wig would probably go to my knees if I wore it. It's also really thick and has a center part skin-top (not changeable though). Price includes Shipping.
Warning: all long wigs have a tendency to tangle. When I ship it to you, I'll untangle it the best I can and braid it so it doesn't get messed up during shipping, but the moment you pull it out of the braid, it will probably tangle again. THAT IS NATURAL. (Honestly, I was planning to shop off like a foot off the bottom so it would be easier to handle >_>)

SOLD!CREAMY WHITE Super Long Never Worn Before 3.5 ft Wig - $50





</em>

SOLD!Long Purple wig - Never worn before - $40


Long Purple Cyperous modlon wig - slightly modded - $40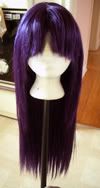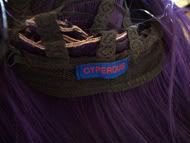 The bangs are extra thick (added wefts) and are straight cut. May require either a bit of a trim or a curling so they sit right. Also waist length with a middle skin part. Authentic Cyperous modlon wig. IS NOT HEAT RESISTANT. Price Includes shipping.




SOLD! Purple Cleo 601 - Brand New Never Worn - $30



SOLD! Medium (Just past shoulders) dark blonde-mix wig with long bangs - $30





All shoes are BRAND NEW and NEVER WORN BEFORE.

SIZE 6 1/2 White Marabou Sandals 5" heel - $30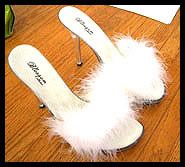 It's actually a clear PVC sandal with a strip of marabou boa attached to it. You can remove the boa if you want a clear sandal. They're lovely shoes, but I'm no good with heels that high.
SIZE 36 (5 1/2 to 6) Black Patent Mary Janes 2 1/2" heel - $30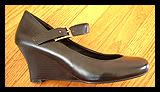 Perfect for lolita, or schoolgirl. I personally would totally keep these shoes... but they don't fit me =_=;
Feel free to leave any questions or comments or email me. I'll try to reply ASAP.
Thanks for looking~♥

x-posted... around.